Lincolnshire Police chief defends use of Tasers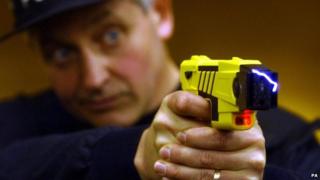 Lincolnshire Police has defended the use of Tasers after a IPCC report said it had the third highest usage of the devices in England and Wales.
Officers used the Tasers 259 times in 2013 - more than double the amount in neighbouring Nottinghamshire.
The police watchdog highlighted the high use of the devices by smaller forces like Lincolnshire.
However, Lee Freeman, assistant chief constable, said 80% of the time Tasers were used they were not fired.
'Closer inspection'
Mr Freeman said the figures from the Independent Police Complaints Commission (IPCC) included incidents where an officer had drawn a Taser but not actually discharged.
He said the number of occasions when it was actually fired was 47.
He said Tasers were usually used in circumstances when someone threatening to use violent behaviour.
He added: "Our officers in those circumstances could potentially draw the Taser, they would shout that they have that Taser, and in 80% of the time the individuals are complying."
James Dipple-Johnstone, IPCC commissioner, said: "There are some forces, when you look at the number of officers they have, they appear to have many more uses of Taser than other forces and we think that needs closer inspection to identify why that's the case."
Mr Freeman said 23% of Lincolnshire officers were trained to use a Taser compared to an average of 8% of police officers across the East Midlands.
He said Lincolnshire's large rural area is also a factor as officers can use Tasers without having to wait for specialist firearms officers to arrive at a scene.
In the East Midlands, Lincolnshire Police officers drew their Tasers 259 times, compared with 119 in Nottinghamshire, 94 in Leicestershire and 83 times in Derbyshire.
Nationally, Staffordshire was the highest with 626 followed by Humberside with 462.