Lost cat rescued after 'crying in chimney'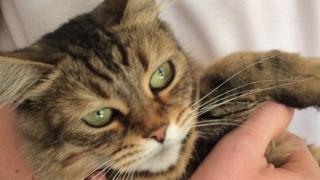 A cat reported missing a week ago in Lincolnshire has been rescued from a chimney after it was heard crying.
The 18-month-old, called Katie, was rescued from a house in North Hykeham by firefighters in a two-hour operation on Tuesday night.
Her owners' neighbours alerted fire crews after hearing a noise while watching TV.
Joanne Booth, whose chimney flue it was stuck in, said a tin of tuna was used to coax her down.
'Ecstatic'
She said a crew of six firefighters had to remove part of the fireplace to free Katie, who is thought to have climbed in from the roof of the property.
She added that before the cat was found she and her partner had searched all over the house to try and locate where the noise was coming from.
"I thought we were imagining it at first," she said.
Katie's owners had placed posters in the local area in a bid to find her when she went missing, but it is not known how long she spent stuck in the chimney.
Ms Booth said they were "absolutely ecstatic" to get her back safely.