Speed camera arsonist Adrian Smith jailed for two years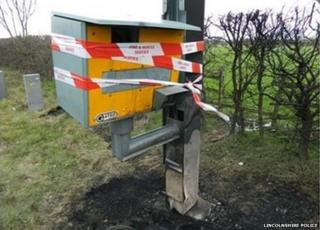 A man who set fire to a speed camera because he feared it had caught him speeding has been jailed for two years.
Adrian Smith, 46, admitted using burning tyres to set the camera alight on the A57 in Lincolnshire.
Lincoln Crown Court heard he had "acted in panic", fearing he would lose his licence.
He also admitted producing cannabis and possession with intent to supply after police found cannabis plants at his home in Worksop, Nottinghamshire.
'Chronic pain'
Smith, of Shireoaks Common, had been flashed by the camera, close to Dunham Bridge near Netwon-on-Trent, on 22 February.
Jonathon Dee, prosecuting, said Smith returned to the camera the next day and set fire to the tyres at the base of the camera, causing £24,000 of damage.
Judge Sean Morris told Smith he was "not the first person" to stand before him for setting fire to a speed camera.
"People need to know that anyone who does that will go to prison. These speed cameras save lives. They moderate people's driving."
Smith was tracked by automatic number plate recognition. When police visited his home he told them he feared the number of points he would receive if he had been caught speeding would lead him to lose his licence.
While officers were at the former pub, they discovered the cannabis plants in the cellar.
Smith said he used cannabis because of "chronic pain". He said he was used as the gardener and the plants were for a dealer who intended to sell them.
Martin Keys, defending said Smith was "remorseful" and would lose his job as a security worker if he were jailed.