Louth Cattle Market sale to supermarket chain is approved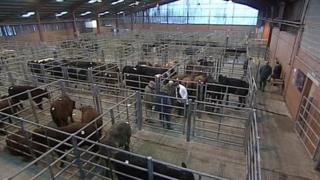 Councillors have voted to sell off the site of a Lincolnshire cattle market to a supermarket chain following a three-year debate.
The historic market in Louth has now been sold to Asda which hopes to open its store by 2016.
However, a Royal Charter states the town must have a cattle market and so a replacement must be built elsewhere.
Keep Louth Special campaigner Ann Macdonald said there were fears that independent businesses would be harmed.
East Lindsey District Council put the market site, off Linden Walk, up for sale last October.
At a meeting on Wednesday 24 councillors voted for the development of the supermarket to go ahead, while 18 voted against it or abstained.
Councillor John Upsall said it had been a "difficult decision for everyone".
He said if the sale had not been approved at this site, another supermarket would have opened a store in another area on the outskirts of the town.
Leader of the district council, Councillor Doreen Stephenson, said: "We have to look at the future, and the unintended consequence of not agreeing the sale would have seen a supermarket going elsewhere and taking away a lot of interest from Louth.
"Independent retailers have a great following from people in Louth and outside, with people visiting the speciality shops. I think that will continue."