Former Red Arrow attempts Tour de France climb three times in a day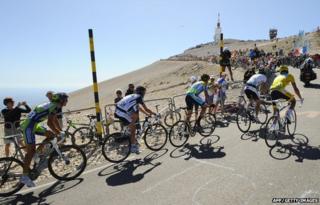 A former Red Arrows pilot is attempting to cycle up a Tour de France mountain three times in a day to raise money in memory of his colleague.
Duncan Mason is raising money for the Jon Egging Trust, which was set up after the pilot crashed and died following a display in Bournemouth.
Sqn Ldr Mason admitted the challenge may be too difficult to complete.
Mont Ventoux is regarded as one of the most gruelling climbs in the Tour de France cycling race.
It claimed the life of British cyclist Tom Simpson in 1967.
There are three main roads up it and Sqn Ldr Mason is attempting all three.
"I have climbed the mountain before, but only once in a day and that was pretty tough going," said Sqn Ldr Mason, who is now the Officer Commanding the Battle of Britain Memorial Flight in Lincolnshire.
"The way that I'm approaching it is I don't know whether I am able to do it.
"It's by no means a certainty that I will be able to complete it, so that's why I'm doing it."
People who complete the challenge can join the Club des Cinglés du Mont Ventoux, which roughly translates as the Windy Mountain Madmen Club.
Sqn Ldr Mason served with Flt Lt Egging on the Harrier Force.
"He was an extremely popular and talented pilot," said Sqn Ldr Mason.
"I was on the Red Arrows previously and he spoke to me about that, about joining the Red Arrows, and I kind of knew at that time he was a perfect fellow to join that team."
Sqn Ldr Mason plans to complete two of the cycling climbs on Wednesday morning, have a break to avoid the heat, then complete the third before it gets dark.