Photos of woman's late son lost in Lincoln arson attack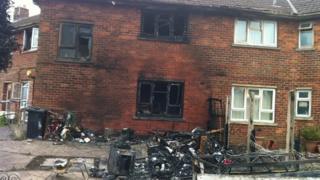 A fire which destroyed a caravan containing photos of its owner's late son is being treated as arson.
Residents were evacuated from the flats after fire spread from the caravan parked in a front garden on Westwick Drive.
Police and fire crews were called to the scene at about 01:30 BST. Two car fires were also reported in the area.
The caravan contained photographs of Katherine Palmer's son, John, who died last year.
She had been having her living room re-plastered and was keeping many of her personal belongings inside the caravan outside her ground floor flat, which was also badly damaged in the blaze.
Her grandsons, Wayne Kisby and Antony Smith, said: "There were gas bottles in the caravan and they've exploded and blown the windows out of the flat and set it alight.
"She has lost her whole life - including all her photos of uncle John - and she is now homeless. It has really shocked her."
Police have appealed for anyone with information to contact them.