Ryan Smith set to return home a year after cycling accident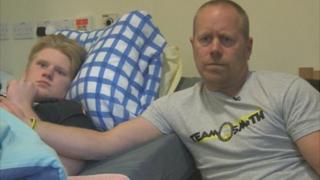 A teenager who was left with a serious brain injury after a cycling accident is set to return home following a year in a specialist rehab centre.
Ryan Smith from Lincolnshire was left in a coma after he was knocked off his bike in July 2013 and has been receiving care in Surrey.
His family said they had driven more than 27,000 miles to visit each day as similar care much closer did not exist.
They have now adapted their home to care for him and continue his recovery.
Ryan, 16, was hit by a van while cycling to work. He was not wearing a helmet.
He has been receiving therapy at The Children's Trust centre in Surrey but is now set to return home.
Dad Mark Smith said: "He has been away from his friends and family for a long, long time and I believe that this will spur him on even more.
"His friends will be able to visit again because it won't be a 400-mile round trip anymore and hopefully he [Ryan] will make those first steps out of the chair."
Family friend Eric Jackson has helped carry out the work on the house and is looking forward to having Ryan home.
"Every time we went to see him it was like Christmas because he was getting better every time," he said.
Adaptations to the family home in Chapel St Leonards near Skegness have been part-funded by East Lindsey District Council.