Lincoln bypass plans face renewed criticism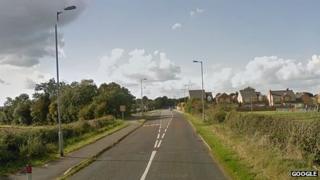 A revised plan for Lincoln's Eastern Bypass has already been criticised for a lack of transparency.
The original designs were rejected by the Secretary of State for Transport earlier this year due to cyclist safety concerns at a bridge.
The county council has confirmed four new options for the bridge have been submitted to the local parish council.
But campaigners have complained they have not been shown the ideas or been allowed to give input.
The link between Wragby Road, north of Lincoln, and the A15 Sleaford Road to the south, was rejected after a public inquiry in July, with concerns focusing on access to a pedestrian bridge at Hawthorne Road.
Campaigners 'bewildered'
Officials face a race against time to resubmit the plans as government funding for the £100m scheme is only available until March 2015.
They said they hoped to submit a new planning application later this month, which will be considered by councillors in October.
However, they admit if enough groups object, another public inquiry could be triggered.
Rodney Jelfs, safety officer for the cycle charity CTC Lincolnshire, felt the council were repeating mistakes from the last application.
"We have not seen anything yet, we have no idea. There has been no real consultation within the dictionary meaning of the word.
"Why this has gone just to the parish council and not to the people who objected at the public inquiry, I do not know. I am bewildered," he said.
Richard Davies, cabinet member for highways, said the council was following a "statutory process".
"It is impossible to keep every group 100% happy in £100m project like this but we are meeting as many people as possible and will meet with many more as the planning process continues."