Lincoln Swanpool landfill housing plan prompts tests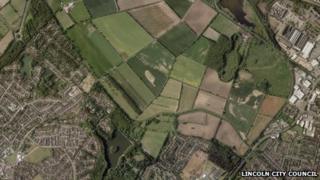 Two former landfill sites near Lincoln are being tested to assess their suitability for housing.
Eighteen trial pits and 20 boreholes have been dug at Skewbridge and Swanpool to monitor contamination and gas emissions.
The land is part of the Western Growth Corridor plan that could see 2,700 homes built on the area.
Flooding fears had prompted opposition to the plans but the city council said these concerns had been dealt with.
The Western Growth Corridor, a £250m development of housing, green spaces and infrastructure, is part of Lincolnshire's Core strategy, which could see nearly 43,000 homes built across the county.
Remediation work
The Environment Agency had criticised the Lincoln plans for being on a flood plain but the city council said further discussions and changes to proposals had reassured the inspectors.
Leader Ric Metcalfe said: "Growth is essential to ensure Lincoln's future, and the Western Growth Corridor is the biggest and most sustainable site we have to enable us to provide homes, jobs and services for a growing population.
"Any development would need to be safe and appropriate, which is why we are carrying out this investigative work to find out what our options are."
Interim findings are expected in three months which will indicate what the sites are suitable for and an indication of the cost of any remediation work required.