Last of the Summer Wine bike fetches £500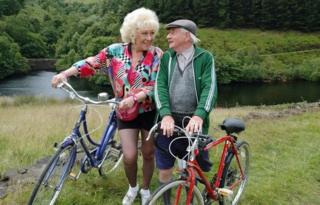 A vintage bike used by the character Marina in BBC comedy Last of the Summer Wine has sold for £500 at auction.
The 1950s Phoenix bicycle was signed by cast members including the late Bill Owen, who played Compo, and Peter Sallis, who played Cleggy.
Jean Fergusson, who played Marina from 1984 to the mid-1990s, said her bike had a "lot of sentimental attachment".
John Leatt from the auctioneers in Lincoln said an overseas bidder bought the "iconic piece of TV history".
Miss Fergusson said it was her "very first bike" and had appeared in many episodes of the comedy, which often saw peroxide blonde Marina and her secret romance Howard escape his nagging wife Pearl for bike rides.
But their plans were usually foiled.
"It was by pure chance they gave it to me when they got a new bike for the show in the mid-1990s," she said.
"I put it in my hatchback and everyone came over to sign it like Bill Owen and Brian Wilde, who are now dead, and Ron Moody, who was in an episode of the show at the time. It set off a chain reaction."
The bike was also signed by crew and cast including Alan J. W. Bell, who produced and directed the show for 30 years, Brian Wilde who played Foggy, Gordon Wharmby who played Welsey, Robert Fyfe who played Howard and Mike Grady who was Barry,
Signed labels from Dame Thora Hird who played Edie, Kathy Staff who was Nora Batty, Jane Freeman who played Ivy, and Juliette Kaplan who was Pearl were tied to the handle bars.
Mr Leatt said he was "delighted" to feature the bike in the Golding Young and Mawer's 150th anniversary auction.
---
What was Last of the Summer Wine all about?
Three elderly friends in Holmfirth West Yorkshire, originally Cyril, Cleggy and Compo
They are each from a different class in society
The women are formidable figures, including Nora Batty, whom Compo lusts after
Created for the BBC Comedy Playhouse in 1973
Peaked in the late 70s, when up to 20m tuned in
Thought to be the world's longest-running sitcom when the final episode aired in 2010
Written by one man, Roy Clarke
---