The 104-year-old man who visits Skegness every year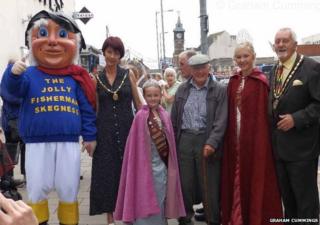 A 104-year-old man who has visited Skegness every year since his childhood is being cited as proof of the health benefits of the "bracing" sea air.
Sid Pope received a surprise welcome from dignitaries and the town's Jolly Fisherman mascot - who is about the same age - at the Lincolnshire resort on Thursday.
Mr Pope, from Leicestershire, has been visiting since he was about 10.
His visits even pre-date the founding of Butlin's at the resort.
He said his surprise welcome, organised by a coach driver who takes him to Skegness, was "absolutely marvellous".
The welcome party included the mayor and the carnival queen, and he was treated to his favourite meal of fish, chips and peas.
"I like it because the air is so fresh here," said Mr Pope, who lives in Branston.
"This was the place to come because we lived near Grantham, you see.
"The surroundings of Skegness have [changed] but not Skegness itself. It's more or less the same as it always was."
He said drinking scotch had helped him live a long life, and he intended to carry on visiting Skegness for years to come.
"I hope so; I haven't thrown my chips yet," he said.
Skegness Mayor George Saxon said it was wonderful to meet a 104 year old who was so full of life.
"He's got all his faculties. He loves the fresh air in Skegness," he said.
"We've always been saying it's good for you, Skeggy, it's bracing.
"And a tot of scotch at night. Well, you can't beat that for a life, can you?"
'Bracing' Skeggy
In the 1850s Skegness was a village with less than 400 inhabitants.
It became more popular with the coming of the railway to the town in the 1870s, making it possible for working class people to spend a day at the seaside.
A poster commissioned by Great Northern Railway in 1908, featuring the Jolly Fisherman mascot and the slogan "Skegness is so bracing", helped put the resort on the map.
The first Butlin's holiday resort was opened by Billy Butlin in Skegness in 1936, helping to make it one of the UK's best known seaside towns.
Skegness has suffered under the popularity of cheap foreign package holidays, but it is still popular with families in the Midlands.
It is popularly known as Skeg or Skeggy.