Gainsborough Old Nick funding sought for redevelopment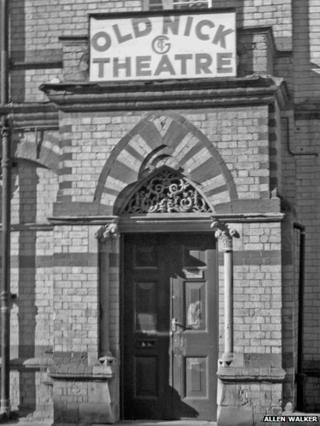 A town's amateur theatre company is hoping to bring the judicial system to life with plans to refurbish a magistrates' court and police station.
The Gainsborough Theatre Company inherited the listed Old Nick from a local businessman when he died in 1993.
Volunteers have now presented plans to the Heritage Lottery Fund (HLF) for help to turn the building into a museum and learning centre.
Group secretary Eleanor Bowker said the building deserved more than a theatre.
The Old Nick dates back to 1860 and was used by Lincolnshire Constabulary until the 1970s.
The theatre company moved into the first floor soon after converting the courtroom into a small theatre.
'Building deserves more'
Ms Bowker said the group now wanted to make more of the rest of the building and had applied for funding to make this happen.
"It is a stunning exterior and the interior is fascinating," she said.
"There is a huge amount of scope and I think it would be excellent for the town.
"Our aim is to establish a heritage venue where young and old can delve into crimes and punishments and see how they have changed over the last 150 years."
The group has appealed to former workers and inmates at the Old Nick to come forward and share their stories.
Ms Bowker said the police station on the ground floor had remained relatively untouched since the police moved out and original graffiti could be found in many of the cells.
She said: "In many ways the building is bigger than us.
"We love this building and love doing theatre in it, but the building deserves more than just us."
The HLF is expected to announce its decision on whether funding will be granted later this month.