Morton Hall Immigration Centre detainees 'treated like criminals'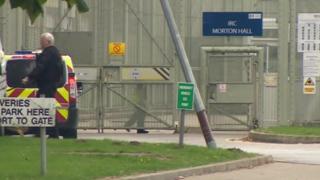 Detainees at an immigration removal centre say they were "treated like criminals" after a day of unrest on Saturday.
Disorder broke out at Morton Hall in Swinderby, Lincolnshire, following the death of a man at the centre overnight.
Staff withdrew for their safety and prison officers in riot gear were called in when about 30 men reportedly refused to stay in their rooms.
The Home Office said an investigation into the man's death was taking place.
Speaking to the BBC, a detainee, said: "Everyone was getting together outside their units and wanted to talk directly to the Home Office and the media.
"They are being very wrong to us inside and they are treating us like criminals and murderers.
"Everything is very wrong here."
A Home Office spokesman said they could not comment on specific allegations while investigations were ongoing.
It is understood the man who died was a 19-year-old from Bangladesh and had been at the centre for a month.
Immigration and Security Minister James Brokenshire said: "Our thoughts are with the family at this very sad time. Deaths in removal centres are rare but tragic events.
---
What is an immigration removal centre?
Removal centres are used for detention in cases where people have no legal right to be in the UK but have refused to leave voluntarily
A minority of detainees are foreign national prisoners who have completed prison terms for serious crimes and are being held in detention while steps are taken to remove them from the UK
The Home Office has 12 immigrations centres in England
Morton Hall opened in 2011 and has 392 rooms for male detainees
---
"We take our responsibilities towards detainees' health and welfare extremely seriously."
The disorder was brought under control shortly after 20:30 BST on Saturday.
The man's death is the second at a UK immigration centre this year, after Christine Case died at Yarl's Wood in Bedfordshire in March.
Last year a report by HM Inspectorate of Prisons criticised staff for the inappropriate use of batons and handcuffs but said, overall, Morton Hall was a "safe establishment" for detainees and security staff.
It is run by the Prison Service on behalf of the UK Border Agency.