Spitalgate Heath: Plans for 3,700 Grantham homes submitted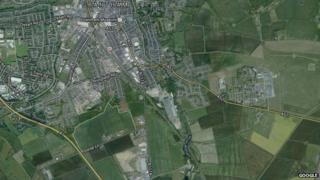 A 3,700-home development is being proposed for one of Lincolnshire's main market towns.
Plans for the 223-hectare Spitalgate Heath project in Grantham include a primary and secondary school and a woodland on the southern edge of the town.
A spokesman for developer Buckminster Estate said it would also include a new riverside park along the River Witham.
Concerns about traffic and noise have been raised by some local residents.
South Kesteven District Council is holding a public consultation on the plans, which runs until 10 October.
If the plans are approved, work on the project could start in autumn 2016, with several hundred new homes built annually.
County councillor Richard Davies, a Conservative member who represents Grantham, said the project would mean hundreds of new jobs for the town.
'Careful consideration'
He said a proposed new relief road, which would be partly funded by the developer, would help with traffic created by the new project.
Charmaine Morgan, South Kesteven Labour leader, raised concerns about traffic in the area, saying queuing was already a problem in Grantham at "several major junctions".
Several local residents told BBC News that traffic was the major issue as roads in the area would not cope with the volume of traffic.
But Stephen Vickers of Buckminster Estate said the plans included "key design principles for ease of movement around the development".
"We have given careful consideration to the infrastructure and our plans also include sustainable urban drainage systems, roads, cycle ways, car and cycle parking, electricity substations and pumping stations," he added.
The county council has already supported plans for a proposed £30m relief road in the south of Grantham, which has a population of 44,000.