Chapel St Leonards head-on crash kills three men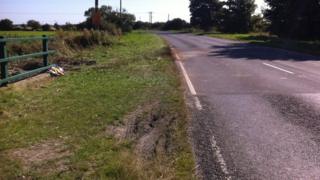 Three men were killed and two seriously injured in a head-on car crash.
At about 19:00 BST on Thursday a Renault Clio and a Vauxhall Astra collided on Hogsthorpe Road, Chapel St Leonards near Skegness in Lincolnshire.
The Astra driver, believed to be 70 and from South Yorkshire, died as did the 21-year-old driver of the Clio and a 19-year-old passenger, both local.
Two back seat passengers, a 23-year-old and a 21-year-old, were both taken to hospital with serious injuries.
The road between Hogsthorpe and Chapel St Leonards was closed until 03:15.
Lincolnshire Police is appealing for anyone who was in the area or saw the vehicles beforehand to contact officers.
Tony Diggins, from the force, said: "You can't imagine the emotions of those families now. That will be it, it will be completely life-changing.
"It's an absolute tragedy."