Chapel St Leonards crash: Marcus Shaw and Sean Glover named by police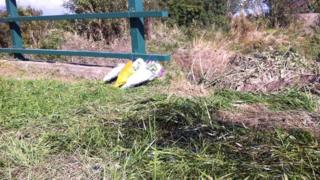 Police have confirmed the names of two young men killed in a head-on car crash in Lincolnshire.
Marcus Shaw, 20, was driving the Renault Clio when it collided with a Vauxhall Astra on Hogsthorpe Road, Chapel St Leonards, on 11 September.
The crash also killed Sean Glover, 19, who was in the front passenger seat, and the 70-year-old Astra driver.
Two men in the back of the Clio, aged 21 and 23, were seriously injured and are still in hospital.
Speaking after the crash, Tony Diggins from Lincolnshire Police said it was "an absolute tragedy".
"You can't imagine the emotions of those families now," he said,
"That will be it, it will be completely life-changing."
Mr Shaw and Mr Glover were both from Mablethorpe, and the Astra driver was from South Yorkshire.
Police are appealing for witnesses to the crash, which happened at about 19:00 BST, to come forward.