Dutch tribute to food drop crews planted in Lincoln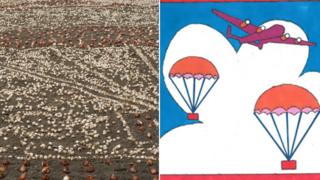 A floral mosaic depicting a Lancaster bomber dropping food supplies in Nazi-occupied Holland has been planted at Lincoln Cathedral.
For 10 days, starting on the 29 April 1945, Operation Manna dropped nearly 7,000 tonnes of food over parts of Holland.
The country had lost 20,000 people through starvation, with a further 980,000 classed as malnourished.
The ceremony involved officials and veterans who had been on the missions.
It marked the contribution made by the crews in saving Dutch lives.
Speaking at the event, veteran Len Dorricot, who flew two missions to Holland, said: "They were the most enjoyable flights I made.
"To see the ladies and children waving at us from the roofs of their houses - welcoming us - as opposed to going and dropping bombs and creating havoc - was really delightful."
Another crew member, Bernie Harris, who was 19 at the time, described it as a mission of joy.
He said: "It really made a difference - even today, people thank us for saving their lives, or those of their mothers and fathers."
At the time, many, including actress Audrey Hepburn, were struggling to get enough food to eat.
Some were even reduced to eating tulip bulbs.
One Dutch school boy described how the winter of 1944/45 was particularly harsh.
He said people got rashes after eating the bulbs due to the chemicals in them and their low resistance because of malnourishment.
The cathedral planting event was attended by local school children and officials from Holland, Canada, Australia, New Zealand, Poland, Germany and the US.
Representatives from the International Bomber Command Centre, an education facility being built in Lincoln, also took part.
Lincolnshire - which is known as Bomber County - was home to many RAF bases during World War Two.
The cathedral was also used as a landmark for bomber crews returning from their missions in the dark.