Boston flood defence work set to begin at Slippery Gowt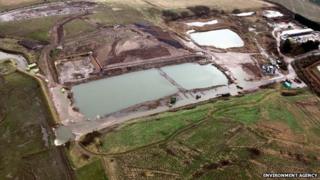 Work is set to start on a £500,000 scheme along part of a river hit by a tidal surge which sent millions of gallons of sea water into it.
Boston, in Lincolnshire, was one of the worst affected areas in the UK, when high tides combined with tidal surges, in December.
Much of the town, including the main church and 200 properties were flooded when the River Haven burst its banks.
The latest work will repair defences at Slippery Gowt.
The Environment Agency carried out a temporary repair at the site after the river breached its banks on 5 December, flooding commercial property and a nearby landfill site.
The surge caused the highest water levels ever recorded on the River Haven - more than 20ft (6m) above sea level and higher than the floods of 1953, the agency said.
Permanent repairs at the site will see the height of the bank increased to 23ft (7m).
Slippery Gowt is one of five priority areas indentified in the town.
Mark Robinson, coastal manager for the Environment Agency, said work would continue in other parts of Boston to further reduce the risk of flooding.
Work begins on Wednesday and is expected to take eight weeks to complete.