Second library consultation starts after High Court battle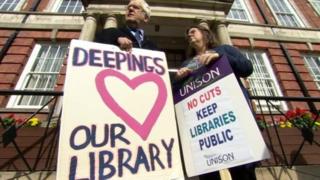 A second consultation over the future of Lincolnshire's libraries has begun after campaigners won a High Court battle against cuts to services.
In July, a judge ruled the county council's decision to re-design its services to save £2m was legally flawed.
The authority wanted to continue running only 15 of its 45 libraries.
The remaining 30 would have been handed over to communities and volunteers to run, or could have faced closure.
Bids from community groups were made for all 30.
'Loud and clear'
Councillor Nick Worth, executive member for libraries, said: "Last year, we ran an extensive consultation seeking views on our own proposal as to how best to make the necessary savings.
"What we got is that people didn't like our proposals.
"The views that were shared have been heard loud and clear, and will again be taken into consideration in making a fresh decision."
In its ruling, the High Court also found the council had failed to deal with an alternative proposal properly.
Greenwich Leisure, a charitable social enterprise, wanted to take over the running of the threatened libraries, but the authority questioned how it could retain services within budget.
The charity said it now wanted to renew its interest and was confident it could provide an effective service and meet council demands.
The consultation runs from 1 to 31 October.