Lincoln Eastern bypass: New design for bridge approved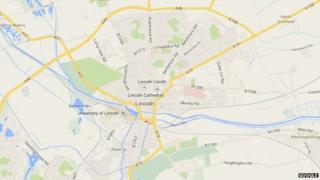 Revised plans for a footbridge forming part of the proposed £100m Lincoln Eastern Bypass have been approved by councillors.
The original plans were rejected by Transport Secretary Patrick McCloughlin because of concerns over safety.
He said the plans did not make adequate provision for pedestrians and cyclists wishing to access Hawthorn Road.
Lincolnshire County Council said it had redesigned the bridge to satisfy his concerns.
Mr McCloughlin intervened after 3,500 people signed a petition opposing the partial closure of Hawthorn Road to motor vehicles as part of the scheme.
But it was the proposed footbridge which was identified as an issue.
Residents had claimed the partial road closure would cause inconvenience for them travelling into the city.
The county council said any increase in journey times would be minimal, with access to the bypass provided.
The revised footbridge design links the two sides of Hawthorn Road, which will be closed to traffic.
The authority said it had consulted with local parish councils, whose views had been incorporated into the design.