Bomber Command visitor centre gets £3.1m lottery boost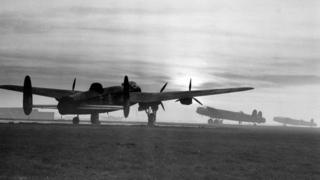 A project to create a Bomber Command visitor centre in Lincoln has been awarded more than £3m from the Heritage Lottery Fund (HLF).
The International Bomber Command Centre will tell the story of more than 55,000 personnel killed in World War Two.
It includes plans for a memorial spire, peace garden and centre designed to "echo the crouching" shape of a Lancaster bomber.
The trust behind the scheme said it was delighted to secure the funding.
Lincolnshire earned the title Bomber County because a third of all the UK's stations were based in the county. Many of the most well-known operations flew from one of these 27 bases, including the Dambusters.
Dan Snow, historian and ambassador for the scheme, said: "Lincolnshire needs a proper memorial to the service personnel who faced appalling conditions as they did their bit to liberate Europe from fascism.
"There is no other centre in Britain, or any other country where the history of the bomber offensive can be preserved, gathered, curated, studied and debated."
The Lincolnshire Bomber Command Memorial Trust said of the 125,000 men who served as aircrew in Bomber Command, fewer than 70,000 returned.
A site facing Lincoln Cathedral was chosen as the location because the building was used by many pilots and navigators as a beacon to let them know they had returned home safely.
Work on the construction element of the project is due to start in December, with the first phase being completed by June 2015 to coincide with the 70th anniversary of the end of the war.
The project, which is supported by the Imperial War Museum, University of Lincoln and a number of squadron associations, will cost about £8m in total.
In June 2012, a £6m memorial to all the 55,573 airmen of Bomber Command who died during World War II was unveiled by the Queen in London but this is the first dedicated to those based in Lincolnshire.