Weston Hills jet crash roads closed 'all next week'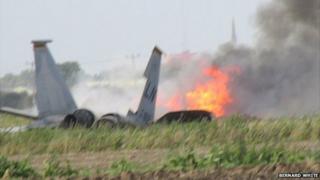 Some roads surrounding the site of a military jet crash will be closed for another week, police have said.
The US Air Force F-15 fighter came down in a field at Weston Hills near Spalding, Lincolnshire, on Wednesday.
The pilot ejected safely. The plane came down near houses and a school, but nobody was hurt.
Police said the road closures were to "secure the integrity of the investigation".
Officers say there will be more recovery crews and equipment, including heavy machinery, at the scene in the early part of next week.
Vivienne Prescott, who lives in Weston Hills said: "It is inconvenient but as this is a farming community there are lots of back roads we can use.
"So people are not being sent miles out of the way, it's just a detour."
The aircraft, based at RAF Lakenheath in Suffolk, had been on a combat training mission.
An investigation into why the aircraft crashed is under way.