Lincoln Castle could be outsourced by county council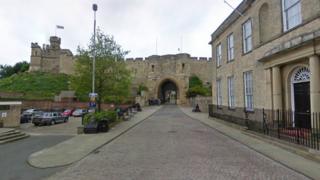 Lincoln Castle could be outsourced to a private company under major restructure proposals for a county council.
Lincolnshire County Council could cut up to 500 jobs as it looks to save £90m a year until 2019, its leader Martin Hill said.
A consultation on where to make savings begins this week, asking people which services should be prioritised.
Trade union Unison, which represents council staff, said the authority "can't cope" with more cuts.
The public is being asked where savings could be made across all the council's departments, including culture and heritage.
Mr Hill, a Conservative, said: "There are a lot of discretionary things we do: for example, we have a lot of cultural offer in the county council - things like the castle, where we have had a lot of investment recently."
The council said it would protect funding in areas including safeguarding children and vulnerable adults, gritting roads and highways maintenance.
It plans to hand 30 of its 45 libraries to volunteer groups to save £2m.
"Like the library services, it's not about stopping services - it's about how can we save the money but make sure the offer is still there," said Mr Hill.
'Cuts, cuts, cuts'
The council has already made £150m of savings in response to government cuts and axed 25 senior management positions but said it would not cut more jobs before "full and proper" consultation.
Helen Stokes from Unison, which predicted cuts on this scale in July, said further job losses could not be allowed.
"It's desperation yet again. Where's all the innovation? Where's all the future development for Lincolnshire County Council?" she said.
"It's out of the window. It's cuts, cuts and more cuts."
The Heritage Lottery Fund has financed a £22m project at Lincoln Castle, which includes an underground vault to house an original copy of Magna Carta.
Other facilities run by the county council include Gainsborough Old Hall and The Collection museum in Lincoln.
Lincoln Castle
A Roman fort was built at the site in about AD60
The Romans abandoned Lincoln and Britain in AD410
William the Conqueror built Lincoln Castle in 1068 on the site of the Roman fortress
For 900 years the castle was used as a court and prison
Lincoln is home to one of only four surviving Magna Carta copies