Anthony Robertson jailed for Michael Broxholme robbery death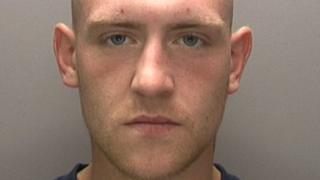 A man who admitted robbing a pensioner who later died has been jailed for three years at Lincoln Crown Court.
Anthony Robertson, 23, of Skegness, Lincolnshire pleaded guilty to robbing Michael Broxholme, 69, of Lincoln on his way home from a pub on 27 June.
Mr Broxholme suffered a broken pelvis and died the next day at Lincoln County Hospital.
The court heard that doctors were unable to say with certainty if the robbery was the cause of his death.
'Despicable' act
Mr Broxholme, who was returning home from the same pub on Lincoln's High Street, had mobility and respiratory problems.
Robertson, under the influence of both illicit and legal drugs at the time, collided with Mr Broxholme and rifled through his pockets as he lay on the ground close to his home.
Judge Michael Heath said: "You collided with him and knocked him to the floor. You had the presence of mind to help yourself to his wallet.
"You then left him lying in the road. What you did was despicable."
The court was told that Robertson, of Grosvenor Road, Skegness, was "full of remorse for what he did" and had been the victim of two serious attacks in custody.
Liz Harte, defending, said: "He had taken both legal and illegal drugs - that was his lifestyle. Where he was going to get his next drugs from is what motivated his day to day activity."