Grandmother Sharon Bolton wrongly jailed over legal highs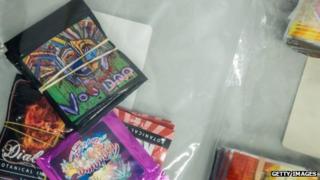 A grandmother wrongly jailed for taking legal highs into prison is considering a claim for compensation.
Sharon Bolton spent 19 days in custody but was freed when it was discovered the legal high was not on a list of items banned from HMP Lincoln.
Ms Bolton, from Rhodesia in Nottinghamshire, said she was "gobsmacked" to be released.
Lincolnshire Police, which made the decision to charge her, has not commented yet.
Speaking after her release, Ms Bolton said: "When I went back into court I had no idea I was going to be released.
"Then the judge apologised and said sorry for sending me to prison. I was gobsmacked."
Ms Bolton, 38, had been visiting her former partner at Lincoln Prison on 21 June.
She was seen removing a package from underneath her top and giving it to the prisoner, who hid it inside his boxer shorts.
The inmate was searched and found with two packets of the legal high Voodoo.
---
What is Voodoo?
Legal highs are substances that produce similar effects to illegal drugs but are not controlled under the Misuse of Drugs Act.
One website selling Voodoo described it as "one of the newest most potent herbal incense blends to the market".
Reported effects of Voodoo include rapid heartbeat, hot flushes and "running around like mad".
---
Ms Bolton admitted a charge of conveying a prohibited item into prison.
She also admitted possession of amphetamine, which she said was for her own use.
She was sentenced to nine months imprisonment on 18 September, but brought back to court on 7 October.
No evidence was offered on the charge relating to the legal high, and Judge Michael Heath gave her a six-month conditional discharge for the amphetamine charge.
A Crown Prosecution Service (CPS) spokesman said one of their advocates highlighted the suspected error and wrote to the court.
A CPS statement said: "The decision to charge was made by the police. But we acknowledge the issue should have been picked up."
The statement said a "small number" of other cases are being checked to see if other people have been wrongly convicted.