Lincolnshire flood research and response centre set up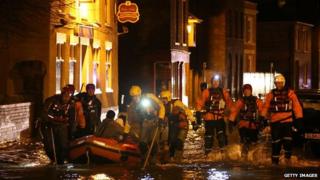 A resource centre has been set up to tackle flooding in Lincolnshire.
Floods devastated parts of the county, including Boston, in December after a tidal surge.
Lincolnshire Community Foundation has said its centre in Horncastle will provide clean-up materials for victims of flooding and help to make properties flood proof.
But a flood consultant has said the centre may be "doubling up" advice already available.
Paul Scott, from the foundation, said the plans were at an early stage.
'Reduces stresses'
It has put together packs of flood protection equipment, which will be delivered to homes and businesses affected by flooding by volunteers, including Lincolnshire 4x4 Response.
"First of all when they're affected by a flood it will help them clean up quicker and shorten the time the property has to be empty," he said.
"Obviously that reduces insurance costs and all sorts of other stresses.
"We will then identify the properties as at risk and put equipment in there to stop flooding again."
---
Flood protection equipment
The charity, which helps people in fuel poverty, plans to send out brooms, mops, buckets and pumps as part of its "rapid clean-up response".
After homes are assessed for flood risks, it said it will install protection equipment including:
Flood barriers and flood gates
Intelligent air bricks, which replace normal house bricks to control the flow of flood water
Toilet bungs
Non-return valves for sewage systems
Flood resistant plaster
Moving the electrics higher
---
Joanne Buckland, whose pub in Horncastle was flooded two years ago, said it would make a "huge difference".
"You have a three-week drying out period - your carpet smells, you have to steam clean your furniture.
"To have something put in place to be able to prevent that, if we do get flood water in again, would be marvellous."
But flood consultant Mary Dhonau urged the group "not to reinvent the wheel".
"They are doubling up what's already been done but I do welcome the resource centre."