Weston Hills jet-crash roads closed for longer than expected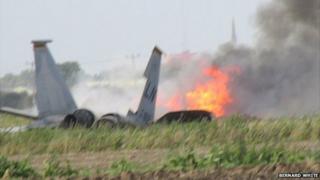 Recovering a military jet that crashed near a school is taking longer than expected, police say.
A US Air Force F-15 fighter came down in a field in Weston Hills, near Spalding, Lincolnshire, on the 8 October.
Nobody was hurt but a road through the village is closed for removal of the plane, which is expected to continue into Monday.
An investigation into the cause of the crash continues.
The plane, based at RAF Lakenheath in Suffolk, came down during a combat training mission, narrowly missing houses and the village primary school. The pilot safely ejected from the craft.
The scene was closed off and guarded to "secure the integrity of the investigation" and removal was expected to have been completed last week.
But Insp Jim Tyner, from Lincolnshire Police, said: "I have been advised by the military authorities that the recovery is taking slightly longer than hoped."