Lincoln City call for regional League Two and Conference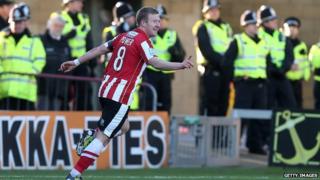 The chairman of Lincoln City Football Club is calling for League Two and the Conference Premier to be regionalised to reduce travel costs and improve player wellbeing.
Bob Dorrian said it costs the club upwards of £20,000 a year for travel and accommodation.
He said many clubs in the Conference struggle to make ends meet .
However, Football Conference officials said teams wanted to be part of a national competition.
Mr Dorrian said: "With six overnight stays and another 17 away games we are looking at a figure of about £21,000."
The extreme would be a trip to Torquay, costing about £2,500, with £1,500 spent on staying in a hotel.
'Real battle'
He said: "There is also a little bit of an unwritten law that anything over three hours a player spends on a coach is detrimental to his wellbeing.
"It's a real battle trying to get the money together to survive in these leagues.
"If we could get to a situation where League Two and the Conference Premier were regionalised I think that would be an excellent result for everybody."
However, Colin Peake, who is a director of the Football Conference, said it was unlikely there would be "a break-up of the top division".
He said: "The 24 clubs are national, and they are national for a reason.
"Most of the clubs want to be part of a national competition."
Alfreton Town's chairman Wayne Bradley said it was hard to see how regionalisation could work.
On the subject of travel, he added some teams, including Torquay, do not stay overnight unless absolutely necessary.
Lincoln City travel to Alfreton this weekend for an FA Cup fourth qualifying round tie.
History of the Football Conference
The Football Conference was formed in 1979 and was originally known as the Alliance Premier League
It was made up from leading teams in the Northern Premier League and Southern League
The Football Conference had a single division for the first 25 years of its existence, but since the 2004-05 season has consisted of three divisions
The original division was renamed Conference National and two new regional divisions one level down were introduced, Conference North and Conference South
Source: Football Conference