Lincolnshire is a dumping ground for solar farms, says councillor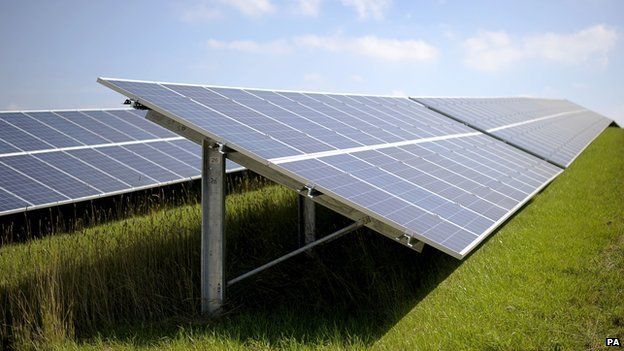 Lincolnshire is becoming a "dumping ground" for large-scale solar energy farms, a councillor has claimed.
More than 40 applications are currently being considered by local authorities, with plans for the UK's largest solar farm approved earlier this year.
County councillor Colin Davie said the renewable energy industry was targeting land used for food production.
Industry representatives said farming and solar could work "hand-in-hand" if the right sites were chosen.
Mr Davie said he supported the use of brownfield sites, such as what is thought to be the largest solar farm in the UK, planned for the old RAF base in Faldingworth, near Lincoln.
But he said the use of greenfield sites was totally unacceptable.
"Whether it's solar, or wind, they think they can dump it all in the county because we are less populated than other areas - therefore, we are an area of least resistance," he said.
Some farmers have offered their support for the use of low grade arable land in energy production.
Niels Kroninger, managing director of AEE Renewables, said there was also government support.
"What they want to make sure is you don't take land out of food production and it doesn't have any impact on ecology and heritage," he said.
Leonie Greene, of the Solar Trade Association, said she agreed that high grade agricultural land should be protected.
She said: "The frustration for us is that both the solar industry and National Farmers' Union recognise the importance of food production."
However, she added that solar farms on low grade arable land helped to protect the landscape and encourage wildlife through the creation of nature reserves and landscaping.
Battle for the crop field
Earlier this week, Environment Secretary Liz Truss described large-scale solar farms as "a blight on the landscape" as she confirmed plans to cut a taxpayer subsidy to farmers and landowners for the schemes.
Plans for a 60 acre solar farm near Reigate, Surrey, have also been opposed by the local Green Party, due to it being sited on greenbelt land.
Related Internet Links
The BBC is not responsible for the content of external sites.