'Mechanical cow' to be built near Sleaford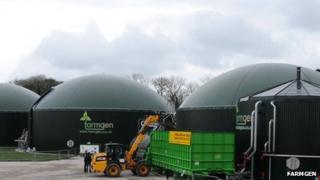 Planning permission has been granted for a "mechanical cow" to turn waste into energy, despite more than 400 objections.
The anaerobic digester will be built on land at Holdingham, near Sleaford in Lincolnshire.
Objections included concerns over "obnoxious smells", traffic problems, noise pollution and its "eyesore" appearance.
But North Kesteven District Council narrowly approved the plans.
Grass to gas
Johann Tasker, chief reporter at Farmers Weekly, said anaerobic digesters are common in places like Germany, but are a "fledgling industry" in the UK.
"They are often described as mechanical cows," he said.
"You feed them with feedstock, which is something like grass or silage or chicken manure, and it converts that product into energy, often gas.
"I don't necessarily think they are as bad as people make them out to be but, like a lot of new technology, people are wary of them."
There were 16 votes in favour and 16 against, but Pat Woodman, chairperson of the planning committee, had the casting vote.
"The applicants had come back with various changes that they had made, and it didn't seem to me that there was a good planning reason anymore to reject it," she said.
Mrs Woodman said the anaerobic digester was so controversial that about 30 members of the public came to the meeting.
'Unbelievable stench'
One objection received by the council said: "I lodged for four years near an anaerobic digester plant at Cannock and have visited friends at Didcot and there is no way I want to be near one again.
"The stench is unbelievable and can make you physically throw up."
The applicants originally wanted to build a poultry farm alongside the anaerobic digester, with the waste from the chickens being turned into fuel.
However, this was previously rejected by the council.