Lincolnshire park's WWI memorial sculpture unveiled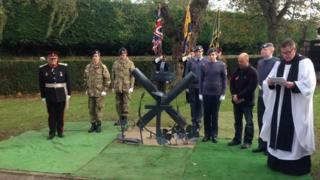 A World War One memorial sculpture has been unveiled in a park named after a captain killed exactly 100 years ago.
A competition was held to design a memorial to go in Wyndham Park, Grantham, in honour of Captain William Reginald Wyndham, killed at Ypres on 6 November, 1914.
It was designed by Daniel Fay, inspired by the locally based Machine Gun Corps.
About 70 people attended the unveiling by the Lord Lieutenant of Lincolnshire Tony Worth.
The sculpture features two guns, a crown and a religious cross with a soldier's hat representing different aspects of mourning and memorial.
"It's a fantastic bit of sculpture, it reflects king and country, it reflects the Machine Gun Corps and the cross is there because Captain Wyndham, after whom this park is named, came from Grantham," Mr Worth said.
A public competition and vote was held in May after four designs were revealed based on either World War One or the Machine Gun Corps, which was based at nearby Belton House.
The winning design was made by Grantham-based sculpture David Sharpe, who said it was a fitting tribute to those who died.