Plans for 970 new homes on Louth's Legbourne Road rejected again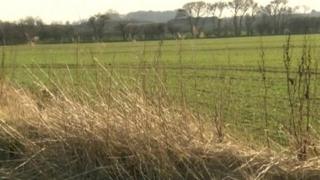 A major housing development has been rejected by a council for a second time despite strong recommendations by its own officers.
Developers wanted to build 970 homes in Louth, Lincolnshire, but were rejected by East Lindsey District Council.
The developer said it was a disappointing and "concerning decision".
Councillors on the planning committee said the scheme was unsustainable because of jobs and infrastructure.
Planning officers at the council recommended the proposal for the 970-home development, including affordable housing, community centre, primary school and public open space off Legbourne Road.
'2,000 homes needed'
But for the second time this year the committee declined permission despite experts warning it would be difficult to defend at an appeal.
Andy Booth, representing Gladman Developments, said: "There was strong officer support for recommendation for the proposals.
"It is important to note that East Lindsey's own housing requirements suggest there's at least another 2,000 homes needed in Louth. If they don't go there, where are they going to go?"
Nobody from the council would speak to the BBC but in the meeting the members expressed concern over the sustainability of such a large development.
An appeal for the first rejected plan has already been submitted and will be considered on 25 November.
At the same meeting, the committee did approve a plan for 98 homes on the former grounds of Louth Football Club.