Neil Hamilton withdraws from Boston and Skegness UKIP vote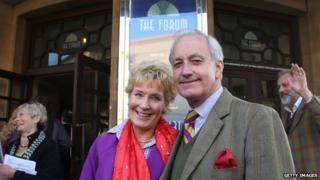 Neil Hamilton will not be the UKIP parliamentary candidate for the Boston and Skegness constituency, it has been revealed.
Party members voted at a meeting held at a brewery on Thursday night, with the winning candidate expected to be announced on Monday.
However, UKIP members said it was not Mr Hamilton, who withdrew ahead of the process.
Mr Hamilton is yet to say why he did not take part.
The current MP for Boston and Skegness is Conservative Mark Simmonds, a former minister who will not be seeking re-election.
Mr Hamilton was a Conservative minister in John Major's government who lost his seat to Martin Bell in 1997.
While campaigning in August, Mr Hamilton said: "I came, I saw, I liked what I saw and that is what has made my mind up."
He said he decided to stand in the constituency because it was in the region with the highest number of votes for UKIP in the country at the European elections in May.
"The whole of my political life has been fought to achieve [getting out of Europe] and so I obviously want to be in at the kill," he said.
Analysis from political editor Tim Iredale
The selection process was organised in a brewery, and that's not a joke.
The Batemans Brewery in Wainfleet, near Skegness, was where members from across the constituency met to choose the candidate to represent the party in next year's general election.
Many pundits see Boston and Skegness as one of UKIP's most winnable seats and I'd love to be able to tell you who the successful candidate was - but unfortunately UKIP won't tell us.
They say they will not reveal the identity until it has been approved by the party's national executive next week.