Lincoln fire cuts will put lives at risk, says union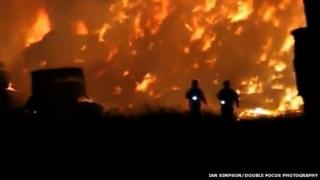 Fire union bosses have warned lives could be put at risk if proposals to cut staffing at fire stations in Lincoln go ahead.
Lincolnshire Fire and Rescue has to save £1.23m as part of county council plans to reduce its budget by £90m over the next five years.
The service is looking at reducing crew numbers and the amount of full-time staff at night.
It said the proposals would minimise the impact on frontline services.
Ben Selby, from the Lincolnshire Fire Brigades Union, said: "We are getting very close to being unable to keep people safe now, with reductions in staffing and the number of crew members manning appliances.
"These cuts to the fire service will put people at risk and inevitably cost lives."
However, Nick Borrill, deputy chief fire officer for Lincolnshire, said: "We recognise that there is pressure across all services - and they have to be prioritised - my job is to look at the impact on the fire service and how we manage that safely."
Any risk to life as a result of the proposed changes would be "absolutely minimal", he said.
The service said its priority was to avoid any reduction in the number of fire engines and avoid station closures.
It said crews in other parts of the county, including Boston, Gainsborough, Grantham and Skegness, were already operating with on call staff at night.
A consultation will run until the 6 February 2015.