Lordship of Manor of Whaplode Abbots title up for sale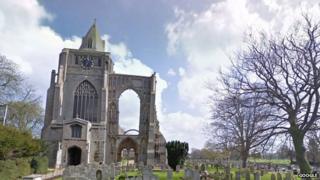 An ancient Lordship title dating back more than 1,000 years has gone on sale for £7,500.
The grand title will make its owner Lord or Lady of the Manor of Whaplode Abbots, near Holbeach, Lincolnshire, but does not include any land.
It is being sold by the current owner who inherited it from his father, who himself bought it in 1952.
The Manorial Society of Great Britain said the Lordship brought with it a "golden glow" but not much else.
The title is being sold by London-based specialists Manorial Auctioneers and will come with documents relating to the title from 1706 up until the 20th Century.
The history of Lordships
Lordships of the manor are among the oldest titles in England and pre-date the Norman conquest
Lords were once the most important person in village affairs whether it was collecting taxes for the King or having the power to inflict death in the courts
The Normans institutionalised the manorial system in the 1086 Doomsday Book compiled for William the Conqueror with details of principal landowners
Manorial rights were retained by the lord of the manor when the land became freehold. They can include rights relating to mines and minerals and those to hunt, shoot or fish
The Lord or Lady of the Manor of Whaplode Abbots dates back to the time of King Edmund I in 948 when a manor was given to Crowland Abbey.
Although technically it could provide the owner with mineral rights, in practice it is simply a title which can be used on passports and credit cards, according to Robert Smith from the Manorial Society of Great Britain.
"Quite often it is local people who buy the titles or someone who lives in one of the grand houses," he said.
"There are in law all sorts of manorial rights which may or may not be of value. So I think you are just buying a golden glow."