The Lawn to become Stokes coffee 'micro roastery'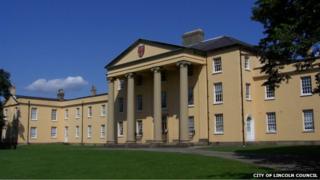 A former asylum in Lincoln is to be turned into a coffee roasting house and visitor attraction.
Stokes, which has run a coffee business in the city since 1902, says The Lawn will become a "micro roastery on a macro scale".
The City of Lincoln Council has been trying to sell The Lawn, which is currently vacant, for three years.
The council selected Stokes from three shortlisted bidders after putting The Lawn up for sale again in March.
Councillor Ric Metcalfe said Stokes was a "popular and highly respected brand" in the city.
Nick Peel, managing director of Stokes, said the business had outgrown its current premises in Mint Lane and moving to The Lawn will enable them to expand.
"We want to move our wholesale department up there and create a new concept of coffee roasting facility," he said.
"It's going to be similar to a micro brewery. I would call it a micro roastery on a macro scale.
"It's similar to the micro roasteries down in London."
He said the production process will be visible, perhaps behind a glass screen, so that visitors can see "how the coffee comes from the coffee bean to your cup".
There will also be an area designated to the history of coffee.
"We've been going since 1902 so we've amassed quite a lot of ancient equipment and we would like to really tell the coffee journey over the years in relation to our business," he said.
The Lawn site covers about 1.62 hectares, and some of the buildings will be put to use in other ways.
Ideas include using the theatre space for events, creating an artistic hub, attracting a "name restaurant" and encouraging small businesses to use the shop units.