Viking Gainsborough: Former capital promotes Sweyn Forkbeard links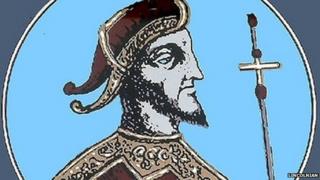 A town that was briefly capital of England is looking to make more of its links with a Viking king who ruled for just 40 days.
Sweyn Forkbeard, the nation's shortest reigning monarch, began his rule on Christmas Day, 1001 years ago in Gainsborough, Lincolnshire.
Officials want to twin the town with Sweyn's birthplace of Roskilde, Denmark and stage a festival.
They also hope to mark his death with a re-enactment of a Viking burial.
The aim is to encourage more people to visit the town.
Gainsborough councillor Dave Dobbie said the town has a rich history that deserves to be celebrated.
He said a twinning arrangement with Roskilde, itself a former Danish capital, would really help put Gainsborough on the map.
He added a twinning group had been set up and was looking to enlist the help of a Danish speaker to talk to officials in Roskilde.
Other plans include a re-enactment of a Viking burial, with the burning of a ship, to mark Sweyn's death on 3 February.
In the past, the annual riverside festival had a Viking theme and some local schools ran Sweyn Forkbeard projects.
But, town historian Darron Childs said Gainsborough needed to follow the example of places like York and do more.
He said: "In Denmark, they have places to visit where a Viking community is recreated - that would be fantastic if we could have that here.
"York has festivals - the Vikings colonised York and made it their main base during the first waves but there is a missing link here - a story which deserves to be told."
A Viking king, his son, and a market town
Ethelred the Unready had ordered the slaughter of all Danes living in England in 1002, in what became known as the St Brice's Day massacre.
It was for this, at least in part, that Sweyn Forkbeard took his revenge - which saw women burned alive, children impaled on lances and men dying suspended from their private parts.
Sweyn came to Gainsborough accompanied by his son Canute, with some believing the town was where he attempted to hold back the waves of the Aegir - a tidal bore, which takes its name from the Viking God of the Sea.
There is evidence of a moat fed from the nearby River Trent around the Old Hall and a sizeable army camp in the town's Castle Hills.
Many local people are direct descendants of the Vikings - the majority of Gainsborough's households listed in the Domesday Book were occupied by Danes.
However, a pub bearing Sweyn's name is the only obvious sign of his time in Gainsborough and its short-lived role as capital of England.