Boston's ancient 'Stump' church heating restored after year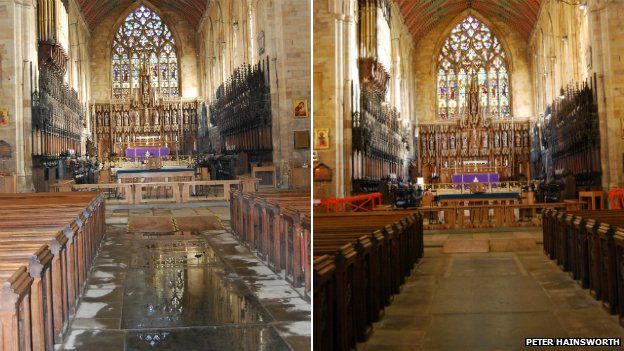 Worshippers at an ancient church that was left with no heating after a flood could now be warmer after a year of being cold.
St Botolph's in Boston, Lincolnshire - known as the Stump - suffered £1m damage in last year's tidal surge.
Three boilers have now been built inside a shipping container, which has been positioned next to the 700-year-old church to keep visitors warm.
Michael Barlett, from the church, said it was a "feat of engineering".
"This will be connected up to our heating system and this will give us heating," he said.
"And then next year this will move into a new plant room [inside the church] that will be purpose built.
Work on the church took more than 200 years to complete. It was started in 1309 and finished around 1520.
It has one of the highest church towers in England, standing at 272 feet (83m) high and is one of the largest parish churches in England.
It is not known how the Stump nickname came about. One suggestion is that during construction it looked like a stump and another is that it comes from the dramatic appearance of it from a distance.
"This will be our permanent boiler system just in temporary location."
He said the container with the pre-constructed boilers inside was built off site and floated along the River Witham.
Cranes hauled the container into place last week.
The tidal surge on December 5, 2013 brought the worst flooding the Lincolnshire community had seen in 60 years.
Nearly 600 properties were flooded. Hundreds of people were evacuated from their homes and some are still living in temporary accommodation.
Water over a foot deep inundated the church in the centre of Boston, damaging the heating and electricity systems, pews, cafe and shop.
Related Internet Links
The BBC is not responsible for the content of external sites.