Lincolnshire Police funding cuts will 'degrade service'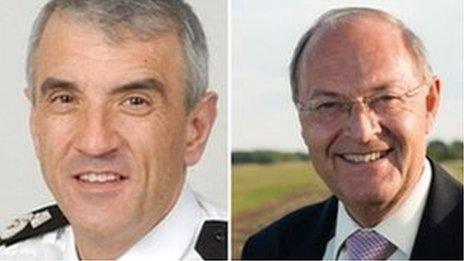 Two police chiefs have written to Home Secretary Theresa May to highlight what they believe is insufficient funding for their force.
Chief Constable Neil Rhodes believes Lincolnshire Police faces being "unviable" in three years, as reported in October.
Police and Crime Commissioner Alan Hardwick wrote that the police funding formula was "not fit for purpose".
Policing Minister Mike Penning said funding was already being reviewed.
In his letter, Mr Rhodes said Lincolnshire Police would be "on the edge of viability" in 2016/17, and "unsustainable" the following year.
The force, which covers the third-largest policing area in the country, has already saved money by outsourcing staff to G4S, restructuring itself, reducing officer numbers by 120 and collaborating more with other forces.
'Significant service degradation'
But Mr Rhodes said it would still have a funding gap of £7.6m in 2016/17, growing to £10.4m in 2017/18, meaning it would need to reduce officer numbers to an "unacceptable" level.
The force currently has 1,100 officers, 149 PCSOs and 256 police staff.
Mr Rhodes said: "Although we are working hard and innovatively to drive out further savings, our ability to make any real impact on that number simply has to be by reducing police officers and PCSOs.
"£10.4m equates broadly to 236 officers. To make a further reduction of police officers (or combination of officers and PCSOs) would mean significant service degradation to a level that the community would find unacceptable."
Criticising the police funding formula in his letter, Mr Hardwick said: "An unsophisticated and blunt, one-size-fits-all approach, as has been taken with funding reductions, does a great disservice to the public and to the concept of localism.
"A new approach must be introduced with urgency."
Policing Minister Mike Penning said "police reform is working" and there was "no question" that police would still have the resources to do their work.
"The government is already conducting a fundamental review of the way funding is allocated between force areas," he said.
"This work is ongoing but we will consult with police forces and others in due course."
Related Internet Links
The BBC is not responsible for the content of external sites.