Boston street drinking: Council approves town centre ban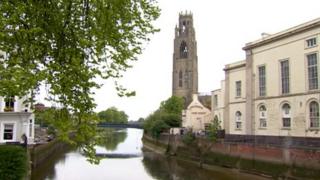 Street drinking in a Lincolnshire town centre will be banned from next month after a vote by the local council to create a drink-free zone.
The ban in Boston town centre will start on 12 January after Boston Borough Council voted to support the move at a meeting on Monday night.
The move follows two rounds of public consultation which showed support for the ban, a council spokesman said.
Drinkers can face fines of up to £500 after a second offence.
Spit and shout
Anyone found drinking alcohol in the designated area will be subject to arrest if they do not stop drinking or surrender the drink when ordered by a police officer.
Lincolnshire Chief Constable Neil Rhodes has supported the new street drinking controls despite earlier concerns about cuts in funding for the force.
Councillor Stephen Woodliffe said he had recently seen men drinking alcohol at 10:30 in the morning in Boston - and they were "noisy" and "spitting in the street".
He said: "I would like to see it across the borough - across the nation - but we cannot bring something in that the police cannot deliver. But it is a start to sort out the town centre."