Baby Dax: US baby pair appeal fund defended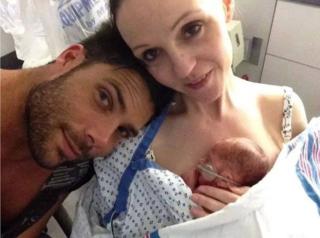 A man who started a fund for a British couple stranded in New York after their baby was born prematurely has said he will refund anyone who feels misled.
Lincolnshire couple Katie Amos and Lee Johnston were on a four-day break when their son, Dax, was born on 28 December, in the middle of the trip.
Richard Crow set up a page to help them financially while they were in the US.
But it has attracted criticism after it emerged insurers would cover the couple's medical expenses.
The couple, from Burgh-le-Marsh, near Skegness, said they did not expect to be allowed to return to the UK until March.
Baby Dax was born 11 weeks premature, weighing just 3lb (1.4kg).
Scam appeal
Mr Crow said he originally started the Facebook page - called Dax's Tale of New York -and a fundraising page to raise awareness among friends.
He said the appeal was to help the couple pay their bills so they could concentrate on looking after Dax.
Mr Johnston, a self-employed personal trainer, and Miss Amos, a fitness instructor, are currently staying in affordable accommodation provided by the Ronald McDonald House Charities near the Lenox Hill Hospital in New York.
Any additional money will be donated to the charity, Mr Crow said.
But some have criticised Mr Crow for not making it clear what the money was for.
One person wrote on social media: "You really ought to be ashamed of yourselves, praying on people who have so little."
Another response read: "Just how much do they want to pay their rent? Terrible using this little boy."
Others called it "a scam" and said there was nothing to stop Mr Johnston returning to the UK to work.
However, responding to the criticism, Mr Crow said: "We never intended to raise money for the medical bills and I have offered to refund anyone who feels they were misled."