Canwick Road £4.5m upgrade project will 'cause delays'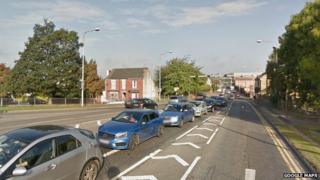 Motorists are being asked to find alternative routes into south Lincoln as a five-month £4.5m road works project begins.
Highways managers said commuters can expect delays during the work to add two lanes of traffic to Canwick Road.
County council spokesman Alan Aistrup said delays will be "inevitable" and advised drivers to avoid the area.
The work will improve bottlenecks on what he called "the busiest stretch of road" in Lincoln.
'Short-term disruption'
The project will add additional lanes both southbound and northbound on Canwick Road and see a series of improvements made at the junctions with South Park Avenue and Washingborough Road.
An old railway culvert near the junction with South Park Avenue will be converted into a new subway for pedestrians, cyclists and horse-riders.
Cllr Richard Davies, of Lincolnshire County Council, said: "These long-term gains will inevitably come at the cost of some short-term disruption, but we'll do our best to keep this to a minimum, and will provide up-to-date information to motorists."
Work will take place at weekends and evenings to speed up the project, which is scheduled to finish in May.