RAF Waddington drone protest: Four charged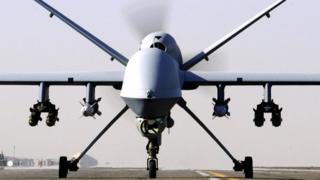 Four people have been charged with criminal damage after a wire was cut at an RAF base.
The End The Drone Wars protesters were arrested at RAF Waddington in Lincolnshire on Monday during a protest over the use of armed drones.
The four, from Oxford, Nottingham, Leicester and Coventry, were released on bail and will appear at Lincoln Magistrates on 10 February.
An RAF spokesman said operation of the drones was not affected.
The four people, who were also charged with obstructing a person engaged in a lawful activity, were:
Christopher Cole, 51, of Wilkins Road, Oxford
Gary Eagling, 52, of Bakewell Drive, Nottingham
Katharina Karcher, 30, of Stoneystanton Road, Coventry
Penelope Walker, 64, of Gotham Street, Leicester