Lincolnshire Police budget fears rejected by home secretary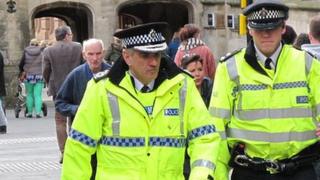 Claims Lincolnshire police could become "unviable" due to funding cuts have been rejected by the home secretary.
Last year both the chief constable and police and crime commissioner wrote to Theresa May to complain the county funding deal was unfair.
But now Mrs May has said she does not accept this assessment, insisting further savings can be found.
Lincolnshire Police and Crime Panel's chair, Norman Norris, said he was disappointed with Mrs May's response.
In October, Chief Constable Neil Rhodes said he had already cut £19.8m (16%) from the budget and, if current funding arrangements stayed in place, he would have to slash a further £11m in three years.
This could lead to the loss of 236 of his 1,100 officers and might even lead to a merger with a neighbouring force, he warned.
Shortly afterwards, he and Police and Crime Commissioner Alan Hardwick wrote to the Home Secretary claiming the formula to calculate funding was "not fit for purpose".
A third letter, from the county's Police and Crime Panel underlined the difficulties the force faced.
It is this letter to which Mrs May has responded, saying while the area's police faced "particular pressures", independent reviews had found more "significant efficiencies to be delivered".
It also said funding calculations were being reviewed but this would "take time".
Mr Norris said: "This does not move us on and I am disappointed it does not move us on.
"My message to the government would be 'Get a grip of this formula, get it sorted out and put Lincolnshire Police on a level playing field and then see how the commissioner and the chief constable get on with the job".