Plans for gates to stop alleyway 'defecation' in Boston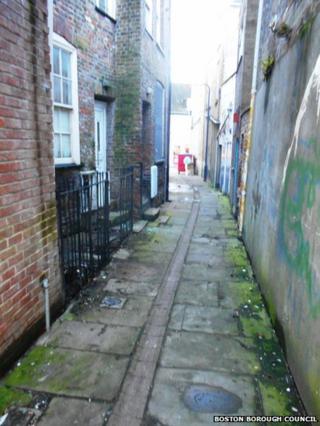 A "hidden" street could be put under lock and key to stop people urinating and defecating there.
Boston Borough Council is planning to install gates in Hatter Lane, Boston, to stop the anti-social behaviour.
If approved, residents and businesses would have to contribute to the cost of installation and maintenance.
Scott Palmer, director of Mountain's Boston Sausage, said heavy drinkers are defecating and urinating in the alleyway on a "daily basis".
'Unsavoury activities'
The council said it was consulting on seeking a public space protection order to put locked gates at both the West Street and High Street ends of Hatter Lane, to restrict access.
The authority said the "hidden nature" of the street has led to the problem and had tried a poster campaign to deter the behaviour.
It had also tried daily bin collections because wheelie bins were providing hiding places for "unsavoury activities".
Mr Palmer said he has even been verbally abused by the people using the street as a toilet.
He said: "There's urination and defecation on a daily basis, there's faeces down there, needles... they're drinking from 6am and we've had to install CCTV."
Mr Palmer said he witnessed one woman urinating in Hatter Lane, in full view of the busy High Street.
"We'll contribute to the [cost of gates] it's the only way things will change," he added.
Councillor Michael Brookes, from Boston Borough Council, said: "There are no excuses for what has been happening.
"The daily refuse collection trial worked in terms of litter, but other anti-social uses are difficult for the council to control which means we are now faced with the only other action available to us."