Funding boost for attractions on 'underused' North Sea coast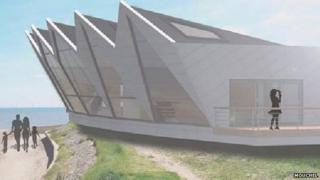 Two coastal visitor attractions in Lincolnshire are to benefit from £1.75m of government funding.
The investment from the Coastal Communities Fund will help create the UK's first purpose-built marine observatory at Chapel St Leonards.
A new visitor centre will also be built at Gibraltar Point. The site was damaged during a tidal surge in 2013.
Officials said the funding would "unlock the potential of these currently underused sites".
The two centres are also expected to create more than 50 jobs and extend the traditional tourist season.
Conservative county councillor Colin Davie said: "Lincolnshire's coastline is stunning at any time of year but, traditionally, the majority of visitors come in the summer.
"These projects will change that - making it possible to easily enjoy our coast's internationally renowned habitats at any time of year."
Both attractions have been designed to withstand flooding.
The observatory - said to be the first of its kind in the UK - is part of a scheme to create a country park along the coast between Sandilands and Chapel St Leonards.
The glass-fronted structure features a visitor centre, cafe and watch tower and will use the latest technology for visitors to learn about the one million birds that migrate along the coastline each year.
The new Gibraltar Point visitor centre has been designed to take advantage of the views, with large windows facing the dunes and sea, as a rooftop viewing deck.
It will be built on a different site to the current building.
In addition to the money from the Coastal Communities Fund, £688,000 is coming from Lincolnshire County Council, £150,000 from Lincolnshire Wildlife Trust and £100,000 from Arts Council England.
Both visitor centres will be owned by Lincolnshire County Council, with the one at Gibraltar Point run by the Lincolnshire Wildlife Trust.