Skegness seafront hotel site petition tops 3,500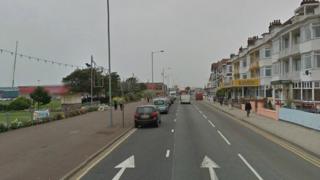 A petition opposing plans to build a hotel on a Lincolnshire seafront has gathered more than 3,500 signatures.
East Lindsey District Council had been looking at selling a site in Skegness to Premier Inn for development.
The Save Our Foreshore group, which includes local hoteliers, have asked for Pier Field to be registered as a community asset.
East Lindsey District Council had put forward plans to sell it to a national hotel developer.
Russell Sparkes, co-chairman of the Save Our Foreshore group, insisted members were not against change but it had to be right for the town.
He said: "They welcome investment in Skegness, they welcome it in the correct areas but they are very much against east Lindsey district council selling off land which they see as belonging to the people of Skegness.
"They are very frightened that if it does get sold, the money will go out of Skegness and will never be seen again."
The field was sold to the town in 1922 on the condition that no buildings were erected but all restrictions were lifted in 2006.
East Lindsey District Council said it was still considering the suggestion ahead of a public meeting which has been planned for 5 February.