A16 dual carriageway call five years after opening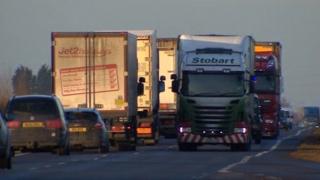 A road built just five years ago is already facing calls for it to be turned into a dual carriageway.
The A16 between Spalding in Lincolnshire and Peterborough was opened in 2010 after a public inquiry over the route.
Now business leaders have said the current single carriageway cannot cope with the expected growth in lorry traffic serving food growers.
They said they had been encouraged by a meeting with the transport minister.
After years of campaigning, a criminal case and subsidence problems, the A1073 was bypassed and the new 13.5 mile (22km) A16 extension built.
But now Spalding Chamber of Commerce has said the single carriageway route is holding back the local economy, especially for fresh produce dealers.
Its president, Phil Scarlett, said: "There are in excess of a million truck journeys a year and that we think will increase by 20% a year over the next three years.
"At the present time, if you get one minor incident the queues are horrendous.
"From a business point of view, lorries leaving the food producers here have got to get to the supermarkets for timed deliveries."
Paul James, from CPT Distribution Ltd, said: "The hardest part of our job at the moment is using the single carriageway to get out of the town.
"Obviously, when we get to Peterborough with the dual carriageways and motorways the lorries are a lot more efficient and the journeys are a lot quicker."
At a recent meeting bosses met Transport Minister John Hayes and while no promises were given, he agreed it was an "important issue".