Boston crematorium to stream funeral services online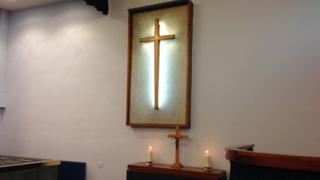 A Lincolnshire crematorium is looking to stream funeral services online so that mourners who are unable to attend can watch.
Boston Borough Council is considering installing a screen and internet-linked cameras at its Marian Road site, which handles 1,300 funerals a year.
The authority said the changing nature of people's lives meant the demands of the service were more diverse.
Officials said the screen would also allow film tributes to be shown.
Borough councillor Yvonne Gunter, who is responsible for the site, said seeing a screen used as part of a young girl's funeral service convinced her to support the idea.
Cross-covering considered
She said: "As the world is, people are spread about and at a minute's notice you can't just jump on a plane and get here for a funeral.
"I think to be able to involve the people who aren't here would be quite comforting."
The plan is for the screen to be installed so it can be pulled down over the crematorium chapel cross.
Officials said some mourners already ask for the cross to be covered over during services, half of which have no religious content.
There is also the possibility that the cross will be removed altogether.
Father Paul Noble, Acting Rural Dean and father of St Nicholas Church in Fishtoft Rd in Boston, said it would be sad if the cross was taken away.
However, he acknowledged a decline in traditional Church of England services and said the screen would allow people in "places like Australia and South Africa" to be included.
The proposals will now be costed by the council's officers before it is put before the cabinet.