Funeral car gets parking ticket at Sleaford church service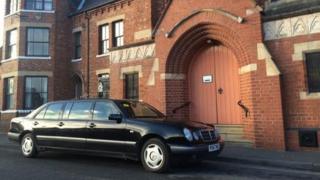 A council has apologised after one of its traffic officers issued a ticket to a funeral car during a service at a church in Lincolnshire.
The ticket was issued on Tuesday while the black limousine was on a single yellow line outside the Roman Catholic Church in Jermyn Street, Sleaford.
Funeral company R Phillips, of Ruskington, said it was shocked that someone could act so disrespectfully.
The authority has apologised and rescinded the £70 parking fine.
In a statement Lincolnshire County Council said: "Our contractor has made a mistake and we are contacting the funeral company to offer our sincere apologies.
"We have cancelled the parking ticket and instructed (contractor) APCOA to remind its staff that funeral cars are exempt from parking restrictions."
Rachel Phillips, from the funeral firm, said: "We've never had a problem like this before.
"It is normal to park on yellow lines when attending a funeral service for the convenience of the mourners."
The driver was unable to come back and move it as he was acting as a pallbearer during the service, she added.
A spokesperson for APCOA Parking (UK) said: "We would like to apologise for this oversight and any inconvenience caused.
"While this is an isolated incident, we have reminded our staff of the rules and exemptions that exist for funeral vehicles."